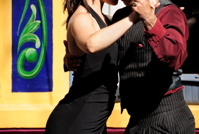 Argentine Tango-dancing and traditional walking programs were compared recently in their effectiveness in improving balance and walking confidence in a group of older adults at risk of falling
The study at McGill University in Montreal randomly assigned 30 people aged 62 to 69 into two groups, all of whom had previously fallen and were at risk of falling again. One group underwent a 10-week walking program and the other took tango-dancing lessons for the same period of time. After completing their respective programs, the participants were assessed using an Activities-based Balance Confidence (ABC) scale, sit-to-stand test, and had their normal and fast walking speeds recorded to determine if improvements were made in their balance and walking confidence and which of the two programs was most effective.
Participants in both groups made improvements in all tests after the 10-week programs were finished and continued to maintain their improvements at the 1-month follow-up. However, greater gains were made in sit-to-stand speed (a measure of lower body strength) in the tango group. This also occurred in the results on the ABC scale. Normal and fast walking speeds improved for both groups where the improvement was about the same after the 10-week period but that benefit was slightly higher for the tango group when the participants were tested at the 1-month follow-up. The researchers could not assume, however, that the improvements in balance and confidence in the walking group would necessarily translate to lower risk of falling because their baseline scores were already higher than the cut-off point set for improvements to fall risk.
Still the researchers felt that adding tango classes to an arsenal of physical activity programs designed to improve balance and walking confidence was a good way to help reduce the risk of falls in older adults since the seniors who participated in the study continued to take the classes after the follow-up period. The classes were clearly popular with the participants.
To your health,
Chris
References
McKinley, P., Jacobson, A., Leroux, A., et al. (2008). Effect of a Community-Based Argentine Tango Dance Program on Functional Balance and Confidence in Older Adults. Journal of Aging and Physical Activity, 16(4), 435-453.