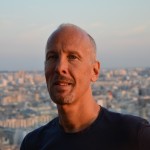 Chris Moffett, M.A.,
Certified Personal Trainer, Fitness Instructor Trainer, and Older Adult Fitness Specialist
Although I started university in Health Sciences, my interest in applying exercise to my own life didn't really take hold until I was in my late 30s. Two surgeries on my lower back and several attempts at pain management taught me how exercise can help in avoiding further surgery and disability!
Prior to becoming a Personal Trainer, I worked for 13 years in Information Technology as a Business Systems Analyst. I left a lucrative career in the summer of 2004 after my father died. I had watched his health decline over the years since his retirement, especially after he had coronary bypass surgery.
My father had been told by his doctors to be physically active but he was never trained on how to exercise nor told that it was more than a just a good thing to do. He didn't know it was essential for his recovery, in helping to avoid further episodes of angina and loss of independence. He had always been active in his job but like so many of his generation, he didn't give much thought of how to challenge his body once he had retired.
Although it was too late to do anything for my Dad, I knew that I could do something for others his age: people who have not been physically active for quite some time; those who have kept up a life of exercise but want to know how to realize its benefits in their activities of daily living, and people who want to be vital and independent for as long as possible.
I decided to go back to school and pursue a career which would allow me to promote exercise to older adults. I am now a Certified Personal Trainer (through both the Canadian Society for Exercise Physiology and Canadian Fitness Professionals), a Fitness Instructor and Older Adult Fitness Specialist (through Canadian Fitness Professionals), and a Certified Seniors' Fitness Instructor and a trainer of fitness instructors (through the Canadian Centre for Activity and Aging). As well, I have a certificate in Gerontology from Ryerson University in Toronto.